I was recently offered an incredible opportunity to spend a day aboard an operational U.S. Navy ship, meeting the crew and observing their work as they conducted a live fire exercise. The experience blew me away1. I came away with new appreciation for our surface forces as well as observations relevant for defense acquisition policy and systems engineering.
Naval Base San Diego
Americans are more disconnected than ever before from their military. To help develop awareness of the Navy's role, Naval Surface Force Pacific occasionally invites community leaders to visit the fleet in San Diego. I felt very fortunate to be included as one of eight participants in an impressive group including business leaders, community leaders, and a district court judge who created a successful veterans treatment court.
The day began with a tour of San Diego Bay and the many ships docked at Naval Base San Diego. Our guide was Captain Christopher Engdahl, Chief of Staff of the Naval Surface Force Pacific.

As we cruised around the bay, Captain Engdahl described the role of the surface force (surface being distinct from the aviation and submarine forces). Like most of our military forces, the surface force has a diverse mission set. Naval warfare has changed significantly from the large-scale, fleet vs. fleet battles of centuries past.
Recently, the surface force has been emphasizing projection of power, freedom of navigation operations, anti-piracy missions, and humanitarian aid. The surface force also supports air and land operations with forward deployment platforms, fire support, and direct enemy engagement. I haven't even touched on mines, anti-submarine, electronic warfare, intelligence gathering, and countless other roles.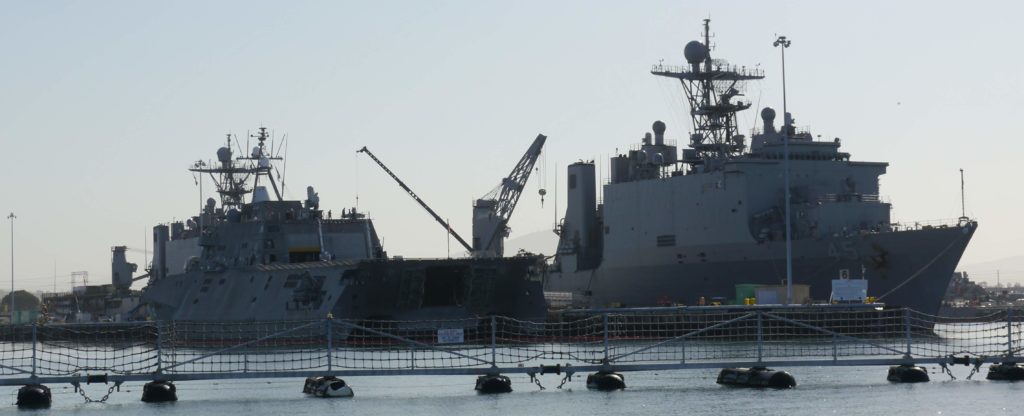 As we cruised by the piers, Captain Engdahl exhibited an encyclopedic knowledge of each of the ships we passed. As he spoke, he sprinkled in stories and details gained from an impressive Navy career. He was recently nominated to Rear Admiral and expects to be assigned to the Board of Inspection and Survey, which assesses the condition of Navy ships and reports to Congress.
Speaking of Congress and readiness, acquisition challenges seem to plague the Navy. These issues have been well publicized. Take the woefully over-budget and under-performing Littoral Combat Ships (pictured above is the USS Independence, featuring a trimaran hull). Another example is the futuristic-looking Zumwalt-class (photo below), which saw its initial 32-unit plan cut to just three amid ballooning costs and watered-down capabilities. The Ticonderoga-class cruisers are reaching the end of their service life and the replacement program is both vaguely-defined and on an aggressive timeline; the results remain to be seen. Given this recent track record, it's hard to imagine the Navy fulfilling its plan to expand the fleet from 285 to 355 ships.
Captain Engdahl touched on these concerns but didn't dwell on them. He did express concern regarding the military's struggle with recruitment and retention. Many young Americans don't meet the physical requirements or don't view the Navy as a viable career. Top personnel often leave after a few tours to work in industry, which can offer more lucrative compensation and work-life balance. Though the Navy has been making significant strides on retention, personnel will likely remain a perennial issue.
USS Bunker Hill (CG-52)
After our tour of the bay, we headed to Naval Air Station North Island to catch a flight to the USS Bunker Hill (CG-52). Bunker Hill is a Ticonderoga-class guided-missile cruiser. She is assigned to Carrier Strike Group Nine, which includes the aircraft carrier USS Theodore Roosevelt (CVN 71). Though she has reached the end of her service life, the Navy has committed to maintaining her for several more years.
This was evident in the condition of the ship. Bunker Hill had just completed a maintenance and refurbishment period and was in the process of re-certifying the equipment and crew. The flight deck, just barely large enough for the MH-60 Seahawk which was our ride, had been certified the day before. On the day of our visit, the crew was conducting a live fire exercise to certify the ship's two five-inch guns.
I almost fell over with the rocking of the ship in the ocean swells. Captain Kurt Sellerberg and his executive officer Commander David Sandomir welcomed us aboard. It was lunchtime and we were invited to enjoy burgers2 with several of the ship's officers in the wardroom. The food was good, the coffee was strong, and the officers were proud of their ship.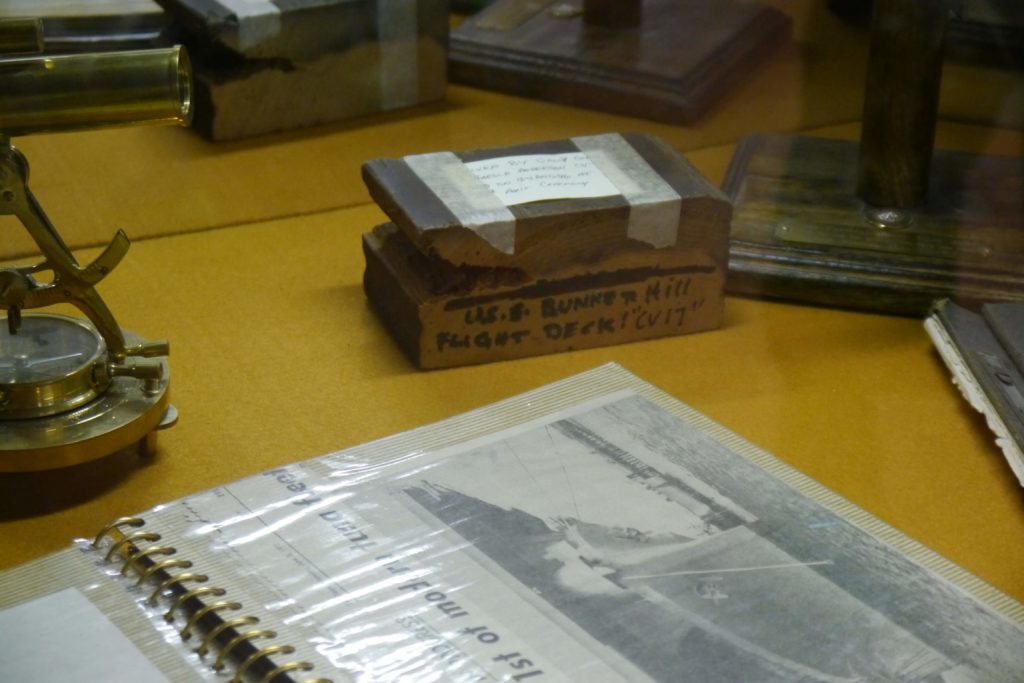 After lunch, we were each assigned a petty officer to guide us around. With the recruitment discussion fresh on my mind, I asked my guide why she chose to enlist in the Navy. She told me that she had been interested in becoming an engineer, but for personal reasons college had not been an option. We didn't get the opportunity to discuss her future plans (the big guns started firing), but she clearly was the type of dedicated, knowledgeable sailor the Navy wants to retain; if she decides to pursue an engineering degree, she'd be heavily recruited by defense contractors.
In fact, every sailor and officer I met aboard the ship was a model professional. We had the opportunity to tour the medical facilities, the engine and generator rooms, the engineering plant central control station, berthing and hygiene facilities, the torpedo room, helicopter hangar, and firefighting facilities. By interacting with the crew, I gained a sense of the culture onboard, which I would describe as strong camaraderie and trust. I later learned that we were witnessing the first implementation of a new training strategy which allows them to complete their basic certification early and utilize the remaining time for more advanced exercises.
Today, the crew was demonstrating the 5-inch gun by firing at imaginary targets on San Clemente Island3. We had free range of the upper-level deck and bridge during the live-fire exercise, an almost-unbelievable amount of access. We listened to the radio calls as the forward observer on the island called in firing coordinates and we watched the gun aim and fire in response. The evaluation team on the island recorded data on each round to score the exercise. We witnessed illumination rounds4, spotting rounds, and the rapid "fire for effect".
Between the forward and rear guns and multiple test scenarios, about 150 rounds were fired. You can see a few of them in the video below. All of the goals for the objectives were satisfied and Captain Sellerberg came on the 1MC (PA system5) to congratulate the crew on a successful exercise.
Heading home
Finally, it was time to head home. The captain and executive officer spent a few more minutes chatting with us while the helicopter landed and refueled. We said farewell and were off6.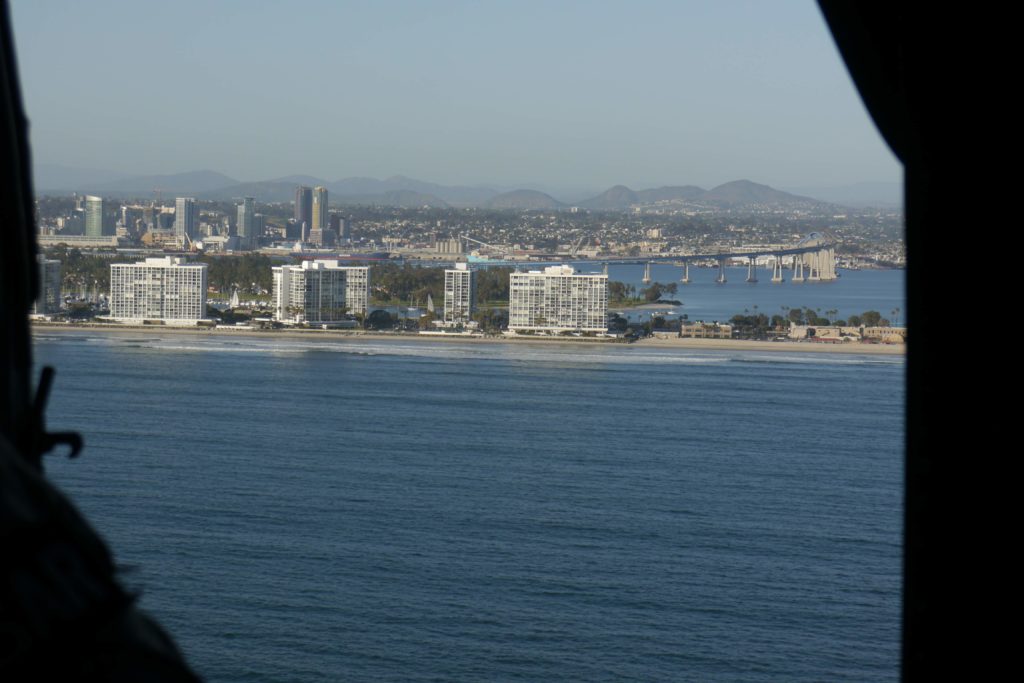 The flight back provided an opportunity for reflection on the day. Beyond being seriously impressed by the exercise and the crew, there are concrete lessons to be learned:
Engineers need field trips
You can read about the [Air Force/Army/Coast Guard/Marines/Navy/Space Force7] 'til the cows come home. But it can't compare to observing and participating in the culture first-hand. In-person visits to an operational facility build unmatched user empathy and mission understanding. On each project, engineering teams need to take the time to visit their users and spend a few days observing their work; leaders in both the contractor and customer organizations need to support these visits.
Traditions matter
The Navy is proud of their traditions. The ship's brass bell is rung every half hour and water fountains are called scuttlebutts. Traditions provide continuity, reminding us of our history even as we adapt to the future.
As far as I am aware, there is no psychology research on the effects of tradition on performance. I would venture to guess that tradition is highly correlated with culture and organizational learning in high-risk and high-performing organizations8. In this sense, tradition substitutes for shared experience.
In the military, traditions are intentionally-instilled doctrine. In engineering, tradition varies significantly by domain and organization. Engineering is evolving more rapidly than ever, and I think it's important that we carry forward traditions and institutional knowledge even as we innovate.
Innovate with intention
Bunker Hill may be 35 years old, but you'd be hard-pressed to see signs of her age. Her crew may be young, but you'd be hard-pressed to see signs of immaturity. The Navy relies on centuries of experience with maintaining ships and training new sailors. They know what works and what doesn't.
Meanwhile, industry gets excited about every hot new buzzword. We breathlessly promote blockchains, machine learning, artificial intelligence, and electromagnetically-launched projectiles. We shoehorn technologies into projects for the sake of innovation and not because it's what the system really needs. Innovation is essential, but should be done with care and intention, not novelty.
Bravo Zulu
I can't say enough about the men and women I interacted with during this experience. They represent the Navy and our country with dedication, skill, and professionalism. This experience gave me a renewed sense of pride in the work we do in the defense industry. Thanks again to everyone who took the time to share their world with us: you made an indelible impression on myself and the entire group.
---
Footnotes:
---